I will never forget how I felt when I got the call that the mass on my grandmother's ovary was cancerous. Even as an adult, it is hard to process how you feel, what it means for your family, how to help, and what to say. As cancer becomes more prominent in our lives on a daily basis, it is important to recognize that kids need special tools and opportunities to make sense of hearing that someone they know has that mysterious thing that we know as "cancer." 
When I was in my master's program, I completed a practicum with the Child and Family Services Department within Suncoast Hospice. I went into schools and co-led grief groups for children who had a loved one in hospice care. I learned a great deal about how children need to process dying and death. Here are some of the things that you can do to help children in your lives in a similar situation.
Emotional Safety Zone.
One of the remarkable things about kids is that they protect their loved ones from their feelings if they believe that they can't handle them. In other words, if you are also grieving the loss of a family member or processing a diagnosis, your child will not share his feelings with you to keep from upsetting you. They need an outlet or a person with whom they can express their feelings without fear of the result. Ask a family friend that your child knows and trusts to fill in the gap for you if you aren't able to offer that outlet.
Healing Activities.
Kids need and want concrete activities and questions when they need to work through something that is hard to understand. Grief, loss, dying, and death are abstract and vague concepts that should be discussed in specific and age-appropriate ways. Activities that allow the child to work through their confusion and worry are especially healing, like drawing pictures of their loved one, writing a story about their loved one, or releasing balloons or butterflies to represent their loved one's journey.
Honesty and Truth.
Adults often make the mistake, although good-intentioned, of trying to protect children from painful situations. Adults believe that a child should not know that a loved one is sick or dying. The reality is that children deserve the right to know, process, and deal with the situation in as much as they are able. Age-appropriate conversations explaining in the simplest of terms what is happening should always occur, so that the child has a chance to ask questions and draw conclusions on his own. Circumstances like these often afford parents their first opportunity to share their spiritual beliefs about death and what happens when someone dies with their children.
Resource.
Deborah Cornwall wrote a very helpful and thoughtful book based on her years of experience with the American Cancer Society and the America Cancer Network. She includes information gained from interviews with more than 35 caregivers about how to best help children, when they are affected by cancer or when they are they patient.
Among the helpful subjects are:
Sharing the News, Managing the Impact for Children, Losing a Parent or Sibling, and Concerns for Caregivers.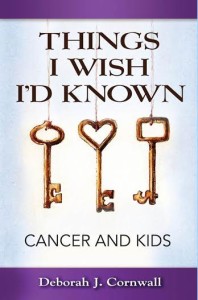 It is probable that no matter what, you and your children will be affected by cancer in some way. It is my hope that these ideas and resource will allow you to help your children face a difficult circumstance with the least amount of pain and confusion possible and to encourage open discussion and processing of the situation. Children are extremely resilient and are often pillars of strength to encourage us along our journey to acceptance. We must walk the path together, and these are effective ways to include children along the way.